Popular Liverpool Hotels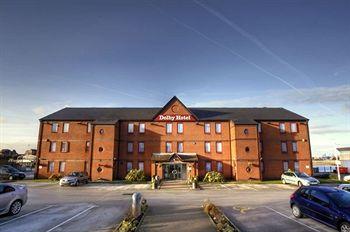 The Dolby Hotel Liverpool
3 stars hotel on 36-42 Chaloner Street.
Non-Smoking Rooms
Cable / Satellite TV
Coffee / Tea Maker
Hair Dryer
From $59 - compare prices
Beech Mount Hotel
3 stars hotel on 1-3 Beech Street.
Hotel Room Service
Air Conditioned Hotel Rooms
Non-Smoking Hotel Rooms
Cable / Satellite TV in Hotel Room
From $71 - compare prices
Marriott City Centre Hotel Liverpool
4 stars hotel on One Queen Square.
Hotel Room Service
Air Conditioned Hotel Rooms
Non-Smoking Hotel Rooms
Cable / Satellite TV in Hotel Room
All Liverpool Hotels
Hotels in Liverpool
Beatles fans and history buffs will discover an amazing array of things to do and see while enjoying the comfort of their Liverpool hotels. Both John Lennon and Paul McCartney grew up here, and two of their songs, Strawberry Fields and Penny Lane, were inspired by the city. The National Trust offers a number of Beatles tours.
If you are interested in history, there are many attractions. The Liverpool Cathedral, for example, took over 74 years to complete and the view from its tower is breathtaking. There are numerous museums, galleries and estates to explore, and a trip on the waterfront ferry, a ride on the city's own big wheel, or a tour of the curious Williamson maze of tunnels beneath the city will provide extra enjoyment to your visit.
Broad Range of Hotel Accommodation
In recent years, the range of accommodation in Liverpool has expanded greatly. If you are looking for the best in comfort and service, an interesting themed room, perhaps a country styled retreat, or simply a cost-conscious base for exploring, the city offers choices to meet your need. If it is convenience you are looking for, there are hotels near the airport with handy parking for the parents and swimming pools to satisfy the younger members of the family. If football is the draw to the city, there are a number of hotels near the Liverpool and Everton stadiums. There is great choice for accommodation in the center of the city and for both five-star and boutique accommodation.
City Center Hotels
Choose from over twenty downtown hotels for easy access to many of the city attractions. Consider the Hard Days Night Hotel, Days Inn, the Hilton, 62 Castle Street, the Heywood House Hotel or base2stay for proximity to Liverpool ONE, a commercial area that features a large outdoor shopping space. The Novotel, Holiday Inn, Liverpool Marriot, The Liner and the Britannia Adelphi are closest to St. George's Hall and the rail station. The boutique Hope St. Hotel is opposite the Liverpool Philharmonic, and the Best Western Feathers is situated in the Hope Street Quarter. For those preferring to be closer to the waterfront, consider the Crowne Plaza, Hotel Indigo, Radisson Blu, or the Atlantic Tower by Thistle.
Luxury Accommodation
The Hope Street Hotel is listed in Conde Nast Traveller as one of the 50 coolest hotels in the world. Two other five star boutique hotel offerings are The Malmaison and 62 Castle Street. For those looking for something different, the Hard Days Night offers Beatles inspired accommodation. The base2stay and Casartelli are two other luxury hotels with sumptuous offerings. Liverpool hotels offer options for any budget and lifestyle.